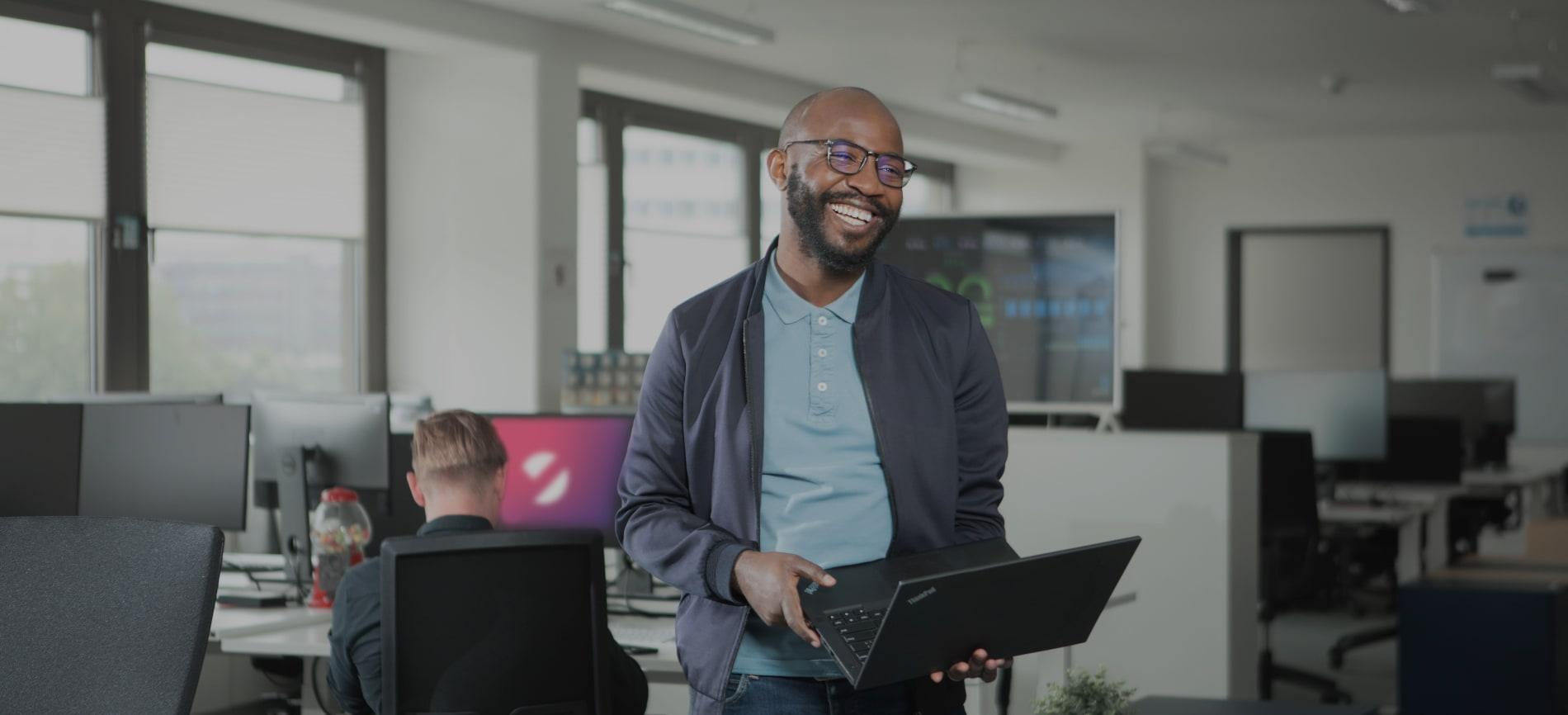 Grow with us
Our Ratepay family consists of many diverse personalities. Together, we take on responsibility and we grow, personally as well as professionally. We constantly improve ourselves. With passion, openness and a lot of heart. There are many good reasons to start your personal growth journey at Ratepay. Here is what our colleagues say.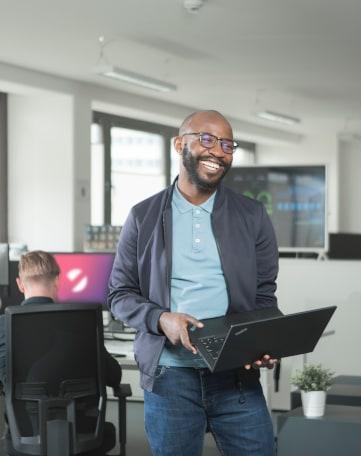 What has been a project, moment or experience that was crucial to your personal growth at Ratepay?
I have always wanted to join a company that allows for my personal and professional growth and I am amazed at how much I have grown since I became part of this organization. I joined Ratepay as a Business Analyst and a few months a later I got an opportunity to get into the product space which I'm enjoying and learning new things every day.
What do you particularly like about Ratepay?
The people. I love the family environment Ratepay has where everybody is there for each other and how diverse we are. Each day I look forward to working and interacting with the different people across the teams. I also like that I have a great degree of control and freedom within my job. I work full-time on a flexible schedule, both in and out-of-office and that enables me to love and enjoy my other passions in life.
Why is your team looking for more colleagues?
As the Integration and Configuration Engineering team, we are part of the Partner/Merchant Lifecycle and therefore always looking for people with fresh ideas to provide, maintain and enhance ways to easily integrate and configure our Ratepay customers.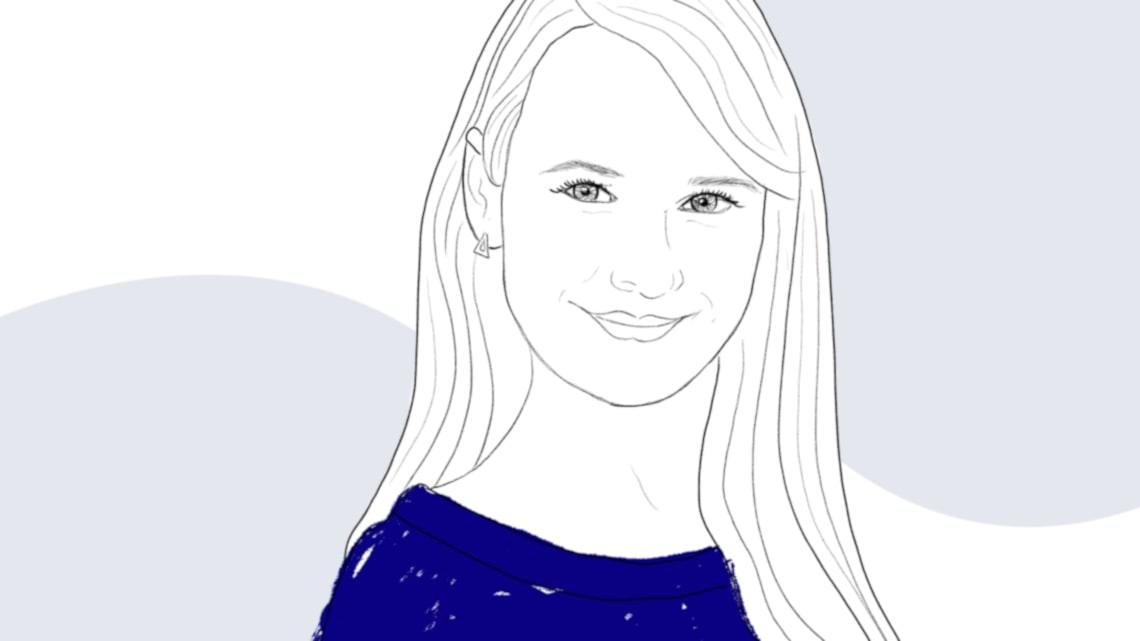 Constance Röhle
Product Manager
I am ...
Product Manager for the Real-Time Process
One habit I would like to break if I could ...
would be the constant questioning of things. But then again, that's my job?
What's worth talking about ...
is sustainability. There are so many things that each of us could do better at any given time without it hurting. So just talking about it helps!
Ratepay to me is ...
a big colorful bunch of damn smart people with a lot of heart and mind
Ratepay is the right place for you if ...
you're not only looking for an employer who provides you with regular income, but also a place where you can realize yourself and bring in your idea.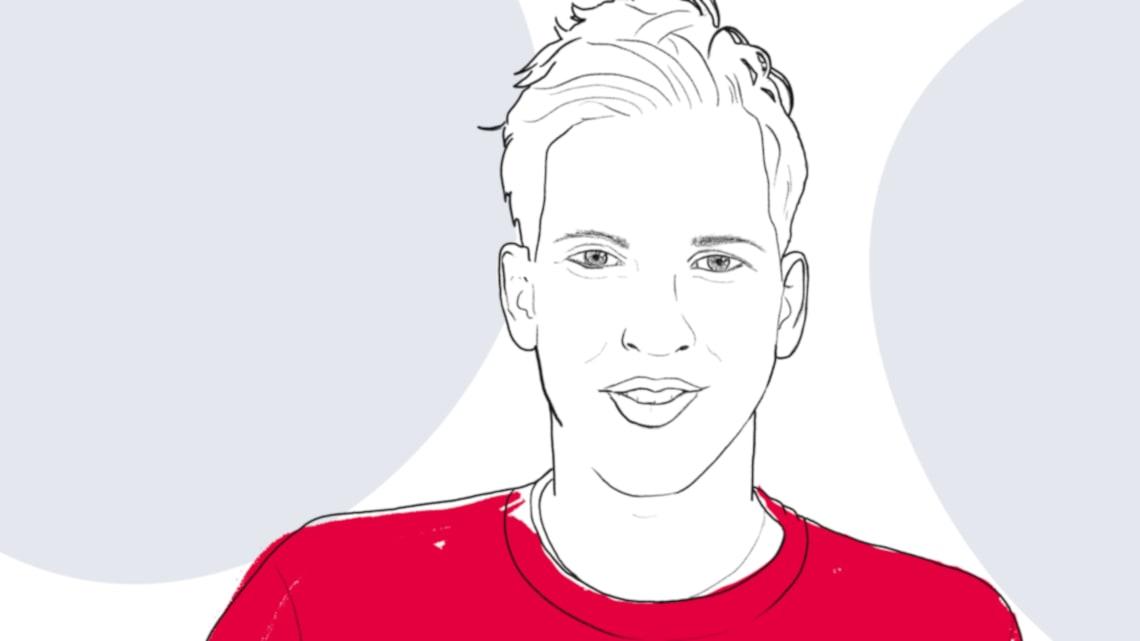 Leon
Sustainability Manager
I do what I do because...
I am deeply convinced and believe I can carry many people along.
Ratepay is for me...
a place where I can develop professionally and be who I am.
Ratepay is the right place for you if...
you want to contribute and implement your ideas with the support of colleagues and leaders.
What there is to know about this department:
Product
"Buy now, Pay later" – Custom Fit Design
Our Focus? Our Customers!
For us, everything revolves around our customers. Customer centricity is not just an empty word for us, it's what we believe in and what we base our work on every day. We do everything we can to find out what challenges our customers face. To do this, we deliberately take a lot of time and spare no effort. Because only if we really understand our customers can we offer them products that they will love and never want to do without again.
We Are Aiming High
What our goal is? To be the best provider of "Buy now, Pay later" solutions! We believe this includes enabling merchants and partners to work with us to design and implement the exact payment journey they want for their customers. With our work, we advance their brand and their vision - while we ourselves feel comfortable in the background.
Diversity Rocks!
Our team of product managers is responsible for all "Buy now, Pay later" products and services that we offer along the entire payment journey. We think: The best ideas come from people working together with very different qualifications and strengths, with different personal backgrounds and from different cultures.
Growing Together
If you're up for a peer community that understands your daily challenges, listens to you, gives feedback, and takes your ideas and plans to the next level with you, we look forward to meeting you - and growing with you!